Swap Shop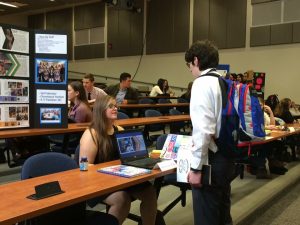 The swap shop will return for the OSMA Spring Convention in 2023. Dates are TBA.  This is an opportunity for you to showcase your publication's best work and learn from your peers from other schools' portfolio.
See award-winners from last year   in a slide show while you gather some of this year's publications.       Learn more from each other.
Bring examples…of your best publication's work to display on a trifold or laptop, as well as extra copies to trade.
Show work…and be able to tell "the story behind the story" about how you created the work.
Give and receive feedback…on the great work you have all been doing.
WERE YOU AN AWARD WINNER LAST YEAR?
We would like to include last year's award winners in a slideshow to be displayed at the Swap Shop. If you were and would like to show off that work too, please send images of last year's award winners (Excellent or Superior) to OSMA Board Member Josh Davis at [email protected]. Be sure to include the school, title, byline and award received.